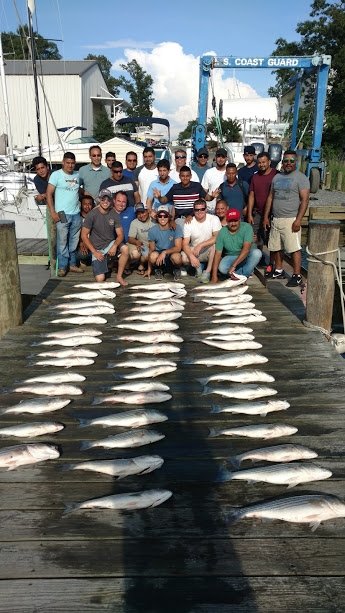 The Miss Grace is known for its Corporate Charters. Whether your company is looking for a fun team building experience, employee appreciation day or looking to spend quality time with customers, the Miss Grace offers the perfect platform.
A day on the Chesapeake Bay can be just what a team needs to boost morale or to reward employees for a job well done. A morning fishing trip, followed by a crab feast or a "cook your catch" at a local waterfront restaurant is the perfect experience for entertaining customers.
Need catering? We can arrange all of your food and drinks with one of our local vendors. Forget the hassle of running around the night before and let us handle all of your needs. Call or email for more info and sample menus.
The Miss Grace can also handle large corporate outings where multi boats are needed. We can arrange up to 20 boats to accomidate the largest of groups. Want to plan a company fishing tournament? Look no further.
The Miss Grace hosts our company fishing trip annually and we could not be happier. Captain Karl has all the finest equipment and the many years of experience to find the fish. His fishing tackle is always first rate. Karl and his mate go the extra mile to make our trip safe and fun! A day on the Miss Grace cruising the Chesapeake bay is a trip our men talk about all year. Thanks Karl and Eric!